A wedding is a journey that blossoms into Love, Trust, Respect, Companionship, and Commitment throughout life. India is often recognized as a country with different and uncommon cultures which change from state to state, India's culture is a combination of several other cultures. Wedding customs and traditions also vary according to different cultures, religions, social classes, etc.
Planning a wedding is pretty exciting at times, Nobody wants things to go wrong on that beautiful day of their lives. It is very much needed to make a step-by-step plan because it will be one of the biggest parties that you'll ever throw.
Here are the top tips with regard to wedding planning:
Wedding Date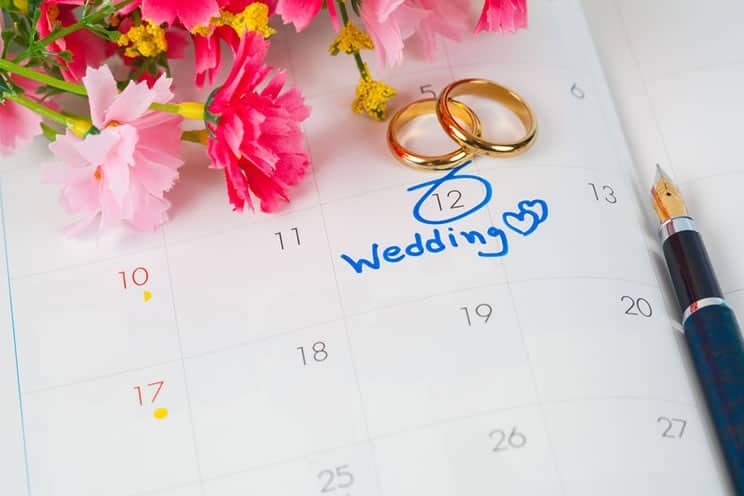 Deciding on a wedding date is the foremost planning decision that you will make, there are various factors which has to be considered while deciding a wedding date. It is very important to cross-check with other family functions so that there won't be any clash with dates so that everyone can appear for the wedding. If you are planning for a destination wedding then it is necessary to decide a date according to climatic conditions, availability of tickets, and venue availability. If you have a limited budget then an off-season wedding will be the best option.
Wedding Budget
After deciding on a wedding date the next crucial step of wedding planning is setting your budget. It may not be the fun part but surely one of the important processes because it sets the rest of your wedding process into action. Maintain a budget fie prepare an estimated and actual cost sheet so that it will be easy to track if there is a surplus or deficit and helps in reducing unnecessary expenses. Allocate a percentage to each category of wedding and come up with your final budget, prioritize your cost by breaking them down it is important that you stay true to your budget.
Guestlist
Indian weddings are known for the huge number of guests, creating the guestlist for weddings is a time-consuming process. Firstly decide the range within which you want the number of guests and divide it for both sides of the family. Take help from family and friends while making a guest list because you cannot afford to make mistakes. Send unofficial save the date in order not to miss any important guests because of their advance commitments.
Venue selection
Every wedding decision that you make plays a great part in organizing your big day, venue selection makes a bigger impact than others. Select a location that suits your wedding style and make sure it fits into your budget. Investing in prices, packages, and any restrictions is important to keep looking for additional opinions before agreeing to a price. If you are opting for two or more locations for different ceremonies, it is important to know travel time from one venue to another so that you can plan your event accordingly. Capacity limits also play important role in venue selection, the venue must fit for the total guest count it is obvious that space designed to accommodate 150 will not fit for 300 hence capacity limits can make or break the venue.
Shop wedding attire
Don't wait till the last minute to shop wedding attire as it can take months from the date you purchase your attire till it gets tailored, hence give enough time to find the perfect outfit. It is better if one starts the search right after the selection of venue, and one must not forget about other pre-wedding attires which they need for brunches, rehearsals, showers, etc. One must not buy the wedding attire too early because you might end up buying something which is out of style by the time when your wedding gets closer, or you might find or like something better than what you have already purchased. Always while buying wedding attire one must keep theme and venue in mind while shopping, describing your vibe can help you narrow down the selection.
Book vendors
While booking a wedding vendor it is important not to rush into any decision, book trustworthy and reputable professionals who have a good sense of your vision, and you are confident that they execute your needs. Wedding vendors play an important role in putting together giant puzzles, they are like nuts and bolts who ensure to make your day unforgettable. Vendors include photographers, wedding planners, florists, caterers, makeup artists, hairstylists, disc jockeys, etc.
License and permission
A marriage license is a legal document obtained prior to marriage it is one of the important tasks. Every state has its own marriage license law hence study them carefully. Make sure to gather all the necessary documents. If you don't obtain a license and permission it can create a problem on your wedding day, therefore in the midst of all crazy planning don't forget to make a time to get your marriage license.
Send wedding invitation
Sending your invitation on time is one of the essential steps for planning a wedding. One must have to decide if they want a physical invite or E-invite because most of the Indian families believe in traditional invite i.e. physical invite as it represents the connection among families. If you didn't send save-the-date then the invitation needs to be sent a little earlier (3-4) months in advance. If your wedding involves a lot of travel then your guest will need extra time to plan and make sure that your guest has information with regard to transportation, accommodation for their stay. Ask guests to RSVP 2 weeks to one month in advance, which will help you to make adjustments in your catering, seating arrangements.
Make your wedding website
A wedding website is the best place to share your engagement stories, photos, along with important information about your big day. It is one of the easiest ways to keep your guests updated about the date, location, travel information, room details, etc. Due to increasing popularity among DIY brides, wedding websites are in trend these days. Everything that appears in the invitation needs to should be present on the welcome page of the website. Creating a website will avoid getting endless calls, and emails from guests.
Security and Safety
There will always be a security threat when a large number of people gather together, as an event host safety of your guest is your responsibility. Most the event planner consider safety as the last component and allocate a small portion of the budgeter than it deserves, one should never neglect the security factor because the goal of security isn't about responding to threats instead prevent threats from happening in the first place.